Welcome to GroGreen
Thorough. Reliable. Friendly. Working Hard To Be A Different Kind of Lawn Care Service.
I'm Blake Ostling, the owner of GroGreen. We serve clients throughout Higgins Lake MI, Roscommon MI, Grayling MI, Houghton Lake MI, Mio MI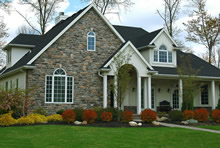 We are the only professional comprehensive lawn care company in the area. We understand the unique differences in individual landscapes and our professional, trained staff knows best how to care for each of them.

We utilize only the best environmentally friendly fertilizer, weed control and insect control products. Don't let our ability to provide great service fool you into thinking we are large company without any personal connection.

The truth is we are a small business run by a local family that has been a contributing part of this community for over a hundred years and plans to stick around for a hundred more. To the customer this means we aren't going to jeopardize our reputation with sub-par work or poor customer service.

Try us with no risk and zero commitment. If you are not completely wowed by our unique service, you may walk away without any pressure or hassle.
Lawn Care Services Offered:
Lawn Fertilization
Weed Control
Mowing
Spring & Fall Leaf Clean-up
Snowplowing
For a refreshing lawn care experience, call 989-821-1405 today.
You may also request a free no hassle quote by clicking here.